The water was not as cold as he expected.
As he lowered himself into the bay, Gabriel exhaled slowly, suddenly relieved that they would not be swimming through ice water. He heard Merasiël mutter something under her breath, and then Magnifico – not for the first time, he worried about conducting a stealth operation with the older man. Until they got him out of his ridiculous jester clothes, Gabriel had not realized just how much older Magnifico was compared to him. He made a silent, mental note to keep an eye on the man, just in case.
They kicked off from the Gleaming Endeavour with Gabriel taking point. It was awkward going – the watertight bag strapped to his back contained their clothes and gear, but the added weight made swimming difficult – but neither of his companions seemed to be struggling. They paused in the shadows of a dock as a pair of the city's guards passed by, grumbling softly at having to be awake this late (or early, depending upon one's perspective). Gabriel glanced toward Merasiël and flashed her a grin.
"Just like Ky'Tal," he murmured under his breath, his voice pitched for her ears alone. She gave him a flat, unamused look.
"Warmer water," she murmured in response.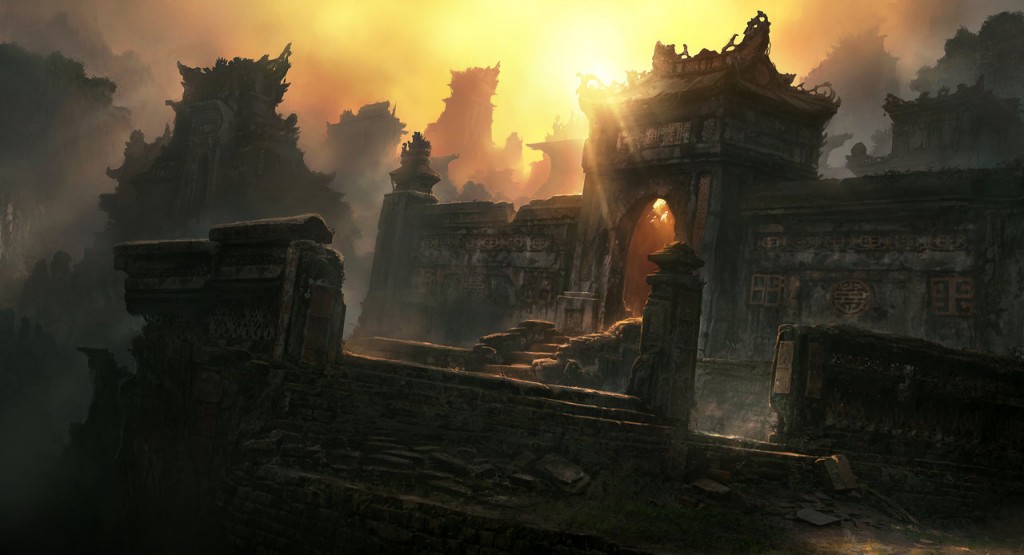 Six Years Ago
The water was strangely frigid for this time of year.
Gabriel grimaced as he floated silently, hugging the shattered remnants of what had once been a hurriedly constructed skiff but was now little more than wreckage. The decision to try an amphibious assault had been a foolish one – to his credit, Dane had argued loud and long against it – but then, the Crusaders had not shown much in the realm of intelligence over the last few years. Naturally, it ended exactly as everyone feared it would, with blood and fire and more senseless death.
This would be the third Hive they had attacked, and Gabriel very much hoped it was to be the last one. He was tired of this world, tired of this ridiculous war, tired of the constant, unending stupidity foisted upon them by nobles who had no business even speaking in a war council, let alone leading troops. Admittedly, the worst of the lot were already gone, felled by their ignorance or dead by disease, but still, there were just enough of the fools remaining to make things difficult. The siege to take this hive, for example, was bringing the fools out like honey drew bees. Most of them wanted to simply assault the gates … or rather, wanted to hurl their Huallapan levies against those gates until they battered them down which was such a patently stupid idea that they had to latch onto it. Thankfully, Dane was at least a little wiser.
Which was how Gabriel found himself treading water in the bay that Hive Ky'Tal crouched over like a sullen, angry child. There were nineteen others scattered around him, most of whom were elves under that fierce-eyed woman, Merasiël . Auqui was here as well – the boy had begged and Gabriel had been forced to admit that he would be useful – as well as Kira, and all of them were waiting for his signal. Damn that Dane for putting him in command. He wanted to scowl even though he acknowledged this was pretty much his own fault. After all, he'd been the one to suggest assaulting this way.
"This will be close knife work," he'd told the assembled team, noting the casually confident way the elves stood. None of them would shy from what had to be done, not with that hard-eyed female in command, so he focused most of his remarks toward Auqui and Kira. "Once we reach the shore, follow the plan. There are to be no deviations or last minute heroics." He locked gazes with Auqui. "Am I clear on this?" he asked, letting his tone and body language deliver the threat more than the words.
"It will be as you say, Master Gabriel," the boy said. He was too eager by half, but dammit, they needed him here. His understanding of the tongue would be essential given how poorly Gabriel understood it.
A brilliant flare of light momentarily illuminated the far bank – Mendel, probably; Dane had a tendency to rely on the monk for these sorts of signals – and Gabriel waited until the flare had faded away before letting himself dip under the water so he could resume his swim. Already, he could feel the strange water-breathing weave dropped over him by Pachacuti beginning to falter which he supposed he should have expected. What was the old saying? You can have it done well or done fast, but not both? They had opted for haste.
They reached the bank before the weave completely collapsed and Gabriel allowed his head to breach the surface slowly. According to the locals, this had once been a fairly large port city before the Vasar came, and the bugs had never bothered tearing down the docks. The neglect showed, however, with rotten timbers and the skeletal remains of strange-looking ships yet berthed against swaying piers that even the local sea-birds avoided. There were a handful of natives milling around and Gabriel grimaced slightly. He considered their options quickly before allowing his eyes to flick to the elven leader, Merasiël . She nodded her understanding and without a word vanished back under the water. Three others followed her.
In the shadows of the crumbling docks, Gabriel led the rest of the team up into cover. For a change, they did not have to change clothes – Pachacuti's weave had seen to that – and Gabriel waited for a long count to twenty before the four elves materialized out of the darkness, their expressions grim but unconcerned.
"It is done," Merasiël said softly in that strange-sounded accent of hers. The other elves shifted around her, as if they could not quite determine whether to recoil away or pledge lifelong loyalty. From the woman's expression, she noticed this and liked it even less than they did. Gabriel pushed his curiosity aside for the moment.
"Four teams of five," Gabriel hissed. He pointed to two elves he vaguely recognized. "You and you, with me. Hit your targets fast and keep moving. Our primary objective is to get the gates open." He flashed a grin. "Peace favor your sword," he said in his terrible elvish before turning away.
With Auqui, Kira and the two elves at his back, Gabriel angled toward the south gate. Rainald would be waiting there with his squadron of Wallace men, though God only knew how many Vasar they would need to cut through to win the gate. He kept low, hugging the shadows and avoiding the patrols, even though he knew Auqui was desperate to throw himself into battle. Now was not the time for that sort of thing, though he doubted the boy cared to hear such a thing. All that mattered was the mission.
And then, of course, everything went to hell.
It was no one's fault, really, though later, Auqui would blame himself – they were sprinting through the narrow, overgrown streets that connected the remains of the Huallapan city to the Hive proper when a squad of Vasar warriors rounded a corner at a fast run. For the span of a single heartbeat, Auqui was silhouetted in the early morning light, a single, armed warrior facing off against a dozen bugs set against the backdrop of a ruined temple, and the Vasar's advance faltered in surprise. They reacted nearly as quickly as he did, with their vestigial wings beating against their carapace in alarm even as he threw himself at them with the Boar Rushes Downhill. Gabriel did not even bother cursing as he reversed stride and darted back toward the melee, his father's sword whispering free from its scabbard. The sharp snap of bowstrings – the two elves and Kira – sounded and two of the Vasar grunted in pained surprise as arrows struck him. By then, Gabriel was among them.
Snow in High Wind gutted one of the bugs and he twisted around a wild swing, springing up and over the polearm. He landed lightly in the dirt and then counterattacked – Kissing the Adder left the attacker squirming in a pool of its vile ichor – before redirecting another bug's attack with Branch in the Storm. Auqui was there, laughing like a fool as he danced through Apple Blossoms in the Wind, injuring two of the Enemy but not sufficiently to drop them. That was just like him, so intent on showing the world how capable he was that he forgot the entire point of a fight like this was to kill the opponent. The best defense, Gabriel's father had once told him, was to have your enemy on the ground, bleeding out. The Rose Unfolds flowed into The Mongoose Takes a Viper, which became Kingfisher Circles the Pond. The entire world constricted to this sharp engagement – Gabriel was aware of more arrows striking home, was cognizant that Auqui's laughter had dwindled as he struggled ever so slightly, knew that Kira would be circling the scrum and seeking her own entrance point, but so little of that mattered. There was his father's sword and the Enemy. And, of course, the sword forms.
It ended nearly as abruptly as it began. He backed the last of the Vasar into Auqui's unnecessarily sloppy Arc of the Moon, but the bug's attention was not on the boy so it made no attempt at defense. With a sudden jerk, it toppled as Auqui's strike took its head which resulted in a shower of disgusting bug ichor.
"More coming," one of the elves said with a dark look aimed in the direction of the Hive. He had already nocked another arrow.
"Then we run," Gabriel replied. He flicked his wrist to snap the ichor from his blade and bit back a smile when he caught Auqui doing the same.
"Did you see, Master?" Auqui asked as he drew alongside him. The boy was grinning.
"I did." Gabriel threw him a smirk. "Your elbow was crooked," he said with a smile of his own. "Now run, boy. We still have a job to do."
They ran.
And the Vasar never knew what hit them.